What does it take to create a racing program these days? How about a dream and a nearly endless supply of
inexpensive, long-wearing donor cars?
Brett Madsen, an SCCA autocross national champ with a pair of high-output Mustangs in the stable, came up with Spec P71, a Southern California time attack series for decommissioned Ford police cruisers and similar sedans.
These Ford sedans are basically big, comfortable, long-wearing Miatas, he explains. "It's slow, it body rolls, but good God is it fun at the limit and fun to compete with," he says of his personal ex-cop car. "It's also the most reliable of the three cars that I own–120,000 miles on it, and I got it with 85,000. A lot of those miles were track miles, and I haven't had to touch anything on the engine at all. It just keeps chugging along like it's nobody's business."
The series welcomes the 1992-2011 Ford Crown Victoria, Mercury Grand Marquis and Lincoln Town Car. Power must come from the two-valve, 4.6-liter  V8 engine, and a $4000 claim rule is in place to limit creativity.
Brett recommends running the 2005-and-up cars, as they received an improved unequal-length,  double-wishbone front suspension–also known as short long arms, or SLA for short. He went with a 2006 Crown Vic.
Photography Credit: Cali Photography
"We were absolutely surprised when we took the car to get aligned," he reports. "We were able to get 3.1 degrees of negative camber out of it. That level of camber made the front end even more controllable."
In addition to the later chassis, Brett recommends a P71-spec police car fitted with the 3.55:1 final drive and limited-slip differential.
He figures $1500 to $2000 can buy a good example of a black-and-white police cruiser–he recently helped someone score the perfect car for $1625 out the door via GovDeals–but budget $3000 or more for an unmarked car. "Everyone is welcome to buy the undercovers, but it kind of defeats the purpose of having a cheap track car that you can push to the limits without worry," he says.
Spec P71 is all about simplicity: pretty much bone-stock, decommissioned police cars running true street tires. The most significant speed equipment you'll find in the series? Probably the race seats, which are bolt-in mods. The rules mandate a $4000 claim rule. Photography Credits: Reyes Delacruz
The rules allow for a few upgrades–easy stuff llike hood vents, deep-sump transmission pans and upgraded rear control arms–but entries must run stock wheels from the later cars. A proper bucket seat is a worthy upgrade, and Brett notes that Planted Technology brackets can mate a standard side- or bottom-mount race seat to the Ford chassis.
"Even for an outrageously tall person like me, there's still plenty of room," he continues. "On top of this, their brackets come welded with a tab for the stock seat belt receiver if you don't end up wanting to put a roll bar and harness in right away. Currently with the time attack stuff, we're all just running the stock three-point seat belts."
The series requires a tire treadwear rating of at least 260, the stock spec. "If driven hard, they'll last maybe one or two events before you'll need to replace them," Brett says of the stock-type tires. "They like to delaminate very quickly in my tests.
Brett runs the Firestone Firehawk Indy 500–plenty of grip and life, he says. It's a 340tw model that retails for about $630 per set in the mandated 235/55R17 size. "They definitely scream at you when you ask too much of them," he notes. "The tire adds to the whole idea of the learner series, basically giving you a forgiving tire that can also teach you the boundaries of what it can do at a low risk."Brakes have proved long-lasting as well. And when it's time to replace them? Brett reports that all-new hardware cost him less than $200 complete through his local Ford dealership.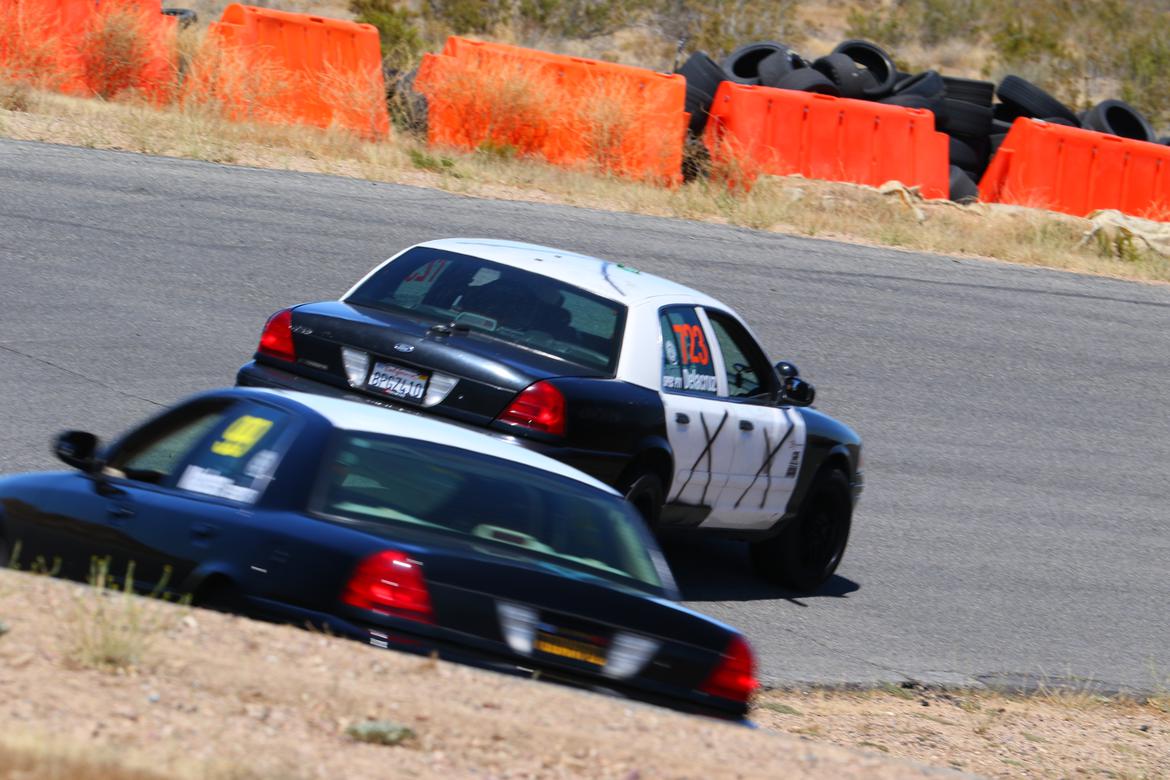 These Ford Panther chassis feature double-wishbone front suspension and offer solid handling and long tire life (just like big Miatas). Photography Credits: Cali Photography
"These cars are truly fantastic to drive at the limit," he says. "SLA front suspension with a four-link/Watts rear suspension makes this thing super comfortable at the limit of tire adhesion, and if you go over, it's so easy to bring it back under control.
"You could honestly bring out your bone-stock Crown Victoria and race with us." Just add personal safety gear and a seat, Brett figures, and you're ready to hit the track.
Comments
View comments on the GRM forums
You'll need to log in to post.
Log in