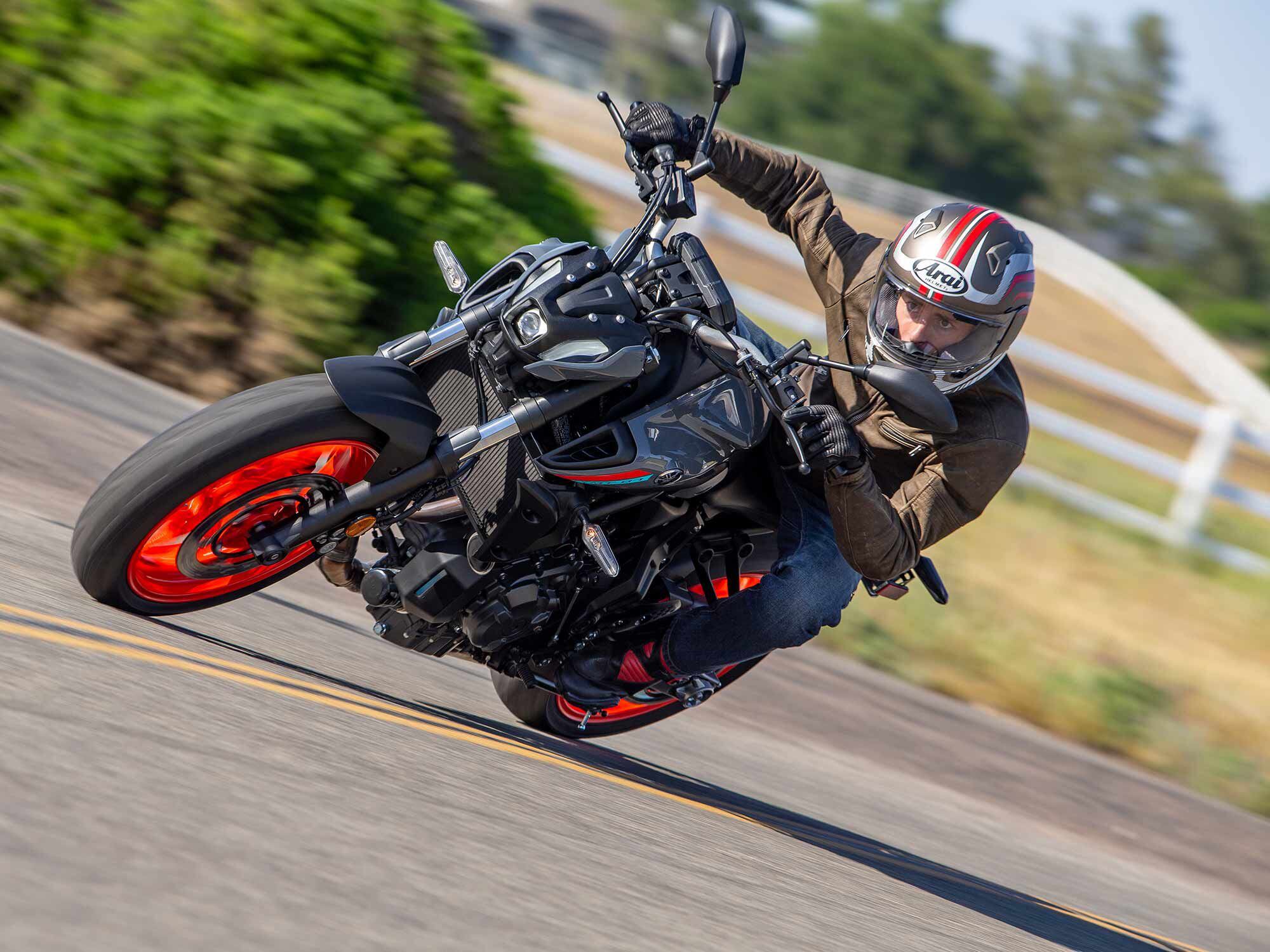 Modern twins and triples may just be the best motorcycles ever. Or so far. (Jeff Allen/)
Motorcycles reflect their time. The current cycle of refinement is a move away from the dogma, espoused between 1985–2005, that all streetbike engines must have four cylinders. Replacing those fours are the post-recession era's lighter, simpler, and more maneuverable twins and triples. They may be the best motorcycles ever.
What forces brought about this change? Consider the following:
The <a href="https://www.cycleworld.com/sportbike/">sportbike</a> idea has run its course; younger riders want fresh choices.
Since 2008, buyers have had less discretionary income and prioritize lower price.
Thanks to new casting methods introduced around 2000, less metal is needed to build a bike of a given capability. New designs are making more sophisticated use of that change to deliver solid performance from lighter packages.
Recent emissions regulations that reward reduced valve overlap have given these new bikes flat torque delivery that is easy to ride.
Electronics and handling innovations from MotoGP are just as effective on middleweights as on traditional open-class pavement wrinklers.
Especially for younger riders, insurance costs for large four-cylinder sportbikes may be greater than the monthly payments on their machines.
Some or all of these factors have brought about lighter, easier-handling bikes that equal or exceed the performance of the heavier and bulkier fours of the previous period, especially in the hands of real-world riders.
Now, just for fun, let's take a look at some of the previous cycles of refinement in our sport:
Previous Development Cycles
In the years before World War I, US motorcycles grew to 61ci or more in displacement because they were so much cheaper than cars. Many motorcycles were commercial workhorses, especially in the form of three-wheeled trucks for delivery or service use. In 1913, their peak year, Indian sold 33,000 bikes; my maternal granddad was one among many building cyclecars powered by Indian engines. The motorcycle's wider use as basic transportation stopped when Henry Ford introduced his low-priced Model T. In response, Indian and others offered lighter machines requiring less athleticism to start and operate, notably Indian's Scout models.
Prior to 1929, more than 200 motorcycle brands existed in the United States. When the Great Depression put 25 percent of the nation out of work—wham—those brands went out of business. Only Harley, Indian, and a few remnants of other makers survived. By 1933, Indian sales fell to just 1,600. No more good years; bye-bye innovation.
Postwar Bikes
After WWII, England was a debtor nation desperate for hard currencies. This created motorcycling's British Invasion, as Britain's many motorcycle makers were ordered to export 70 percent of their production. Americans embraced these British twins for their power, maneuverability, and rear suspension. These bikes were indirect products of those great centers of practical engineering, the Isle of Man TT races and Brooklands Speedway. In the US, Harley-Davidson replied with a less heavy design of its own, the unit-construction K-model 750 flathead. When pumping it up to 883cc didn't put the invaders in their place, Milwaukee upgraded to overhead valves and, in 1957, created the Sportster. Conservative designs had enabled Harley to survive the Depression; now foreign competition had dented that.
Harley-Davidson's Sportster was created in 1957 to counter the lighter and faster British twins from BSA, Norton, and Triumph. (Harley-Davidson/)
Indian's response to all those Triumphs, BSAs, and Nortons was a new line of lighter parallel twins, but last-moment changes by the Product Cheapening Department (every company has PCD men) killed not only the new models but the company itself. Indian closed in 1953.
In faraway Japan, the largest cities and their transportation systems had been destroyed by B-29 bombers. Small motorbikes got people moving again, and competition among their 200-odd makers was fierce. Only four now-familiar brands survived; they did so by creating the most modern production systems available, boosting quality, and cutting price. In 1960 Edward Turner, the dean of the British bike industry, toured Japanese factories and wrote a widely read report. He predicted that Japan's reborn and modernized motorcycle industry would be hard to beat.
Turner's report was shelved. Who likes bad news? Besides, the new Japanese makers seemed so harmless, producing mostly little 50–100cc runabouts. Certainly they presented no threat to England's muscular 500s and 650s.
In the US riders hungered for power, stepping up from 500s to 650s, from single carburetors to two, from wartime's 7:1 compression to bigger numbers and higher torque. British designers discussed how best to exploit this trend, but multicylinder models and the investment they would need were "tabled for later discussion."
Japan Steps Up
Japanese middleweight twins now appeared, displacing 250–305cc. Clever marketing soothed the middle-class fear that motorcycles would give them tattoos. Folks who might otherwise never have considered two wheels started to ride, then moved up from 100cc to 150, to 250, and then 305cc.
Japan was creating a new market, separate from the mainstream of heavy, rugged American bikes and agile British twins. Plus, there were new sales incentives. These Japanese bikes provided reliability, electric starting, and performance features like overhead cams and five-speed gearboxes, all at prices that made middleweight riders of hundreds of thousands.
Between 1965 and 1974 US motorcycle registrations shot up. For me personally, the myth of "unfair Japanese competition" was blown away when Robert Fink, giving me a tour around Harley-Davidson in 1966, said, "Everything Honda has done has increased our sales."
Japanese marketing put motorcycling into the US mainstream. And Japanese product planners didn't discuss more powerful production bikes. They produced them. Debuting in 1969, Honda's four-cylinder CB750 hugely outsold BSA-Triumph's 750 triples. Kawasaki's 903cc Z1 four-cylinder raised Honda's bet 20 percent and met with equivalent success. The superbike revolution was on.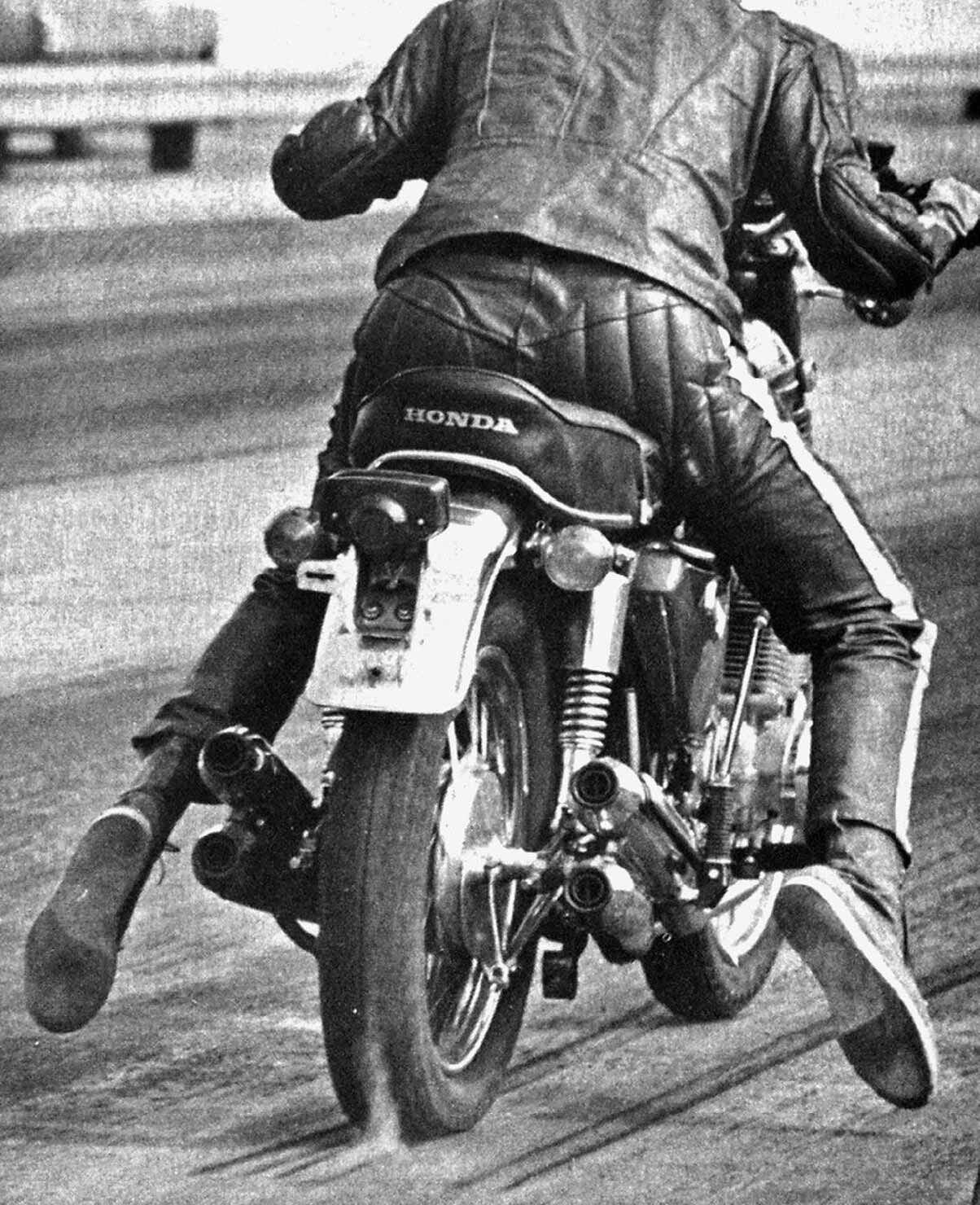 In 1969, the Honda CB750 helped bring multicylinder performance to the masses. (Cycle World Archives/)
Yet all was not perfection. The existing tubular steel chassis technology, suspensions with the same technical sophistication as door closers, and tires which Dunlop engineer Tony Mills would soon be calling "the hard-rubber era" weren't up to the power and weight of these giant air-cooled four-cylinder four-stroke engines. But riders loved the bikes—weight, wobbles, skinny tires, and all! Avid motorcyclists focused on the quarter-mile times and top speeds the numerous and successful bike magazines of the day published. Those numbers told the story, and those numbers constantly increased.
Racing Drives Improvements
From 1972 onward, roadracing began to experience major technology changes. At Daytona that year, the 750 two-strokes tore up every tire put on them, and it was the little 350 Yamaha twins which won the 200-miler. As Japanese manufacturers entered European 500 GP racing, 1960s technologies failed them. They had to stop chassis wobble and weave. They needed suspensions that didn't lock solid at high speed. They needed wider, cooler-running, round-profile belted tires with more stable rubber to transmit 100 or more horsepower at speeds fast approaching 200 mph. It was a mad scramble for answers, and diligent research and testing provided those answers.
The Birth of Superbike
Further incentive came from attempts to race the literbikes in a new production-based roadrace class: Superbike. Only complete reengineering by specialists could produce a bike that could cope with all that new power, and the process taught essential lessons.
Once these new technologies existed, engineers applied them, creating new designs like Honda's 1983 V45 Interceptor and Kawasaki's Ninjas. The new bikes wowed riders—for the first time a mysterious property called handling pushed aside quarter-mile times. These motorcycles did what the rider commanded!
Honda's 1983 V45 Interceptor was one of the first superbikes that focused less on straight-line performance and more on handling. (Cycle World Archives/)
The result was the Supersport Era of 1983–2000. Engine torque rose to new highs because liquid-cooling allowed 12:1 compression, up from the 8:1 or 9.5:1 of the big air-cooled sit-ups. Sophisticated new suspension dampers kept tires on the pavement more of the time, not skipping from one ripple to the next. The greater flexibility of radial tire construction increased footprint and grip.
Europe Steps Up
In the new century European manufacturers became bolder while the Japanese makes hesitated, with the European bikes openly adopting the electronic rider aids fast developing in the new four-stroke MotoGP racing series. Also around 2000, new casting methods based on low-turbulence mold-filling made cast motorcycle chassis and swingarms a reality. Because such castings are largely free of entrained aluminum oxide films (which in earlier times made aluminum castings so weak), they achieve near-forged properties. Early applications were saving 30 pounds of metal per bike.
By 2004, in MotoGP it was possible to use chassis flex to boost tire grip at high lean angles. Again, this technology quickly spread to production bikes.
When it came to engines, two powerful forces acted to flatten torque curves, making motorcycles radically easier to ride:
European emissions standards forced production bikes to find power with less valve overlap.
As in MotoGP, electronic aids enhanced rider control.
Finally, the stock market crash of September 29, 2008, made many existing motorcycle models unaffordable or unattractive as the bike market took a 60 percent dive. This drove a mad dash to create anything that people would buy. First came novelties, seemingly created by city planners: maxi-scooters, two-wheeled lockable storage containers, automatics, 300s, and "urban transportation modules."
When sense returned, the new technologies were implemented in smaller, lighter, and simpler versions of the sales categories of the past: naked, sport, ADV. Four cylinders became two, with balancers to smooth them. Less metal and reduced parts counts cut prices. Torque rose with advanced electronic systems allowing compression ratios to rise from 12:1 to as high as 13.5:1. New technologies plus a market shock created a new kind of motorcycle—bikes on which average riders could operate at a new and higher level.
They are the best motorcycles ever.