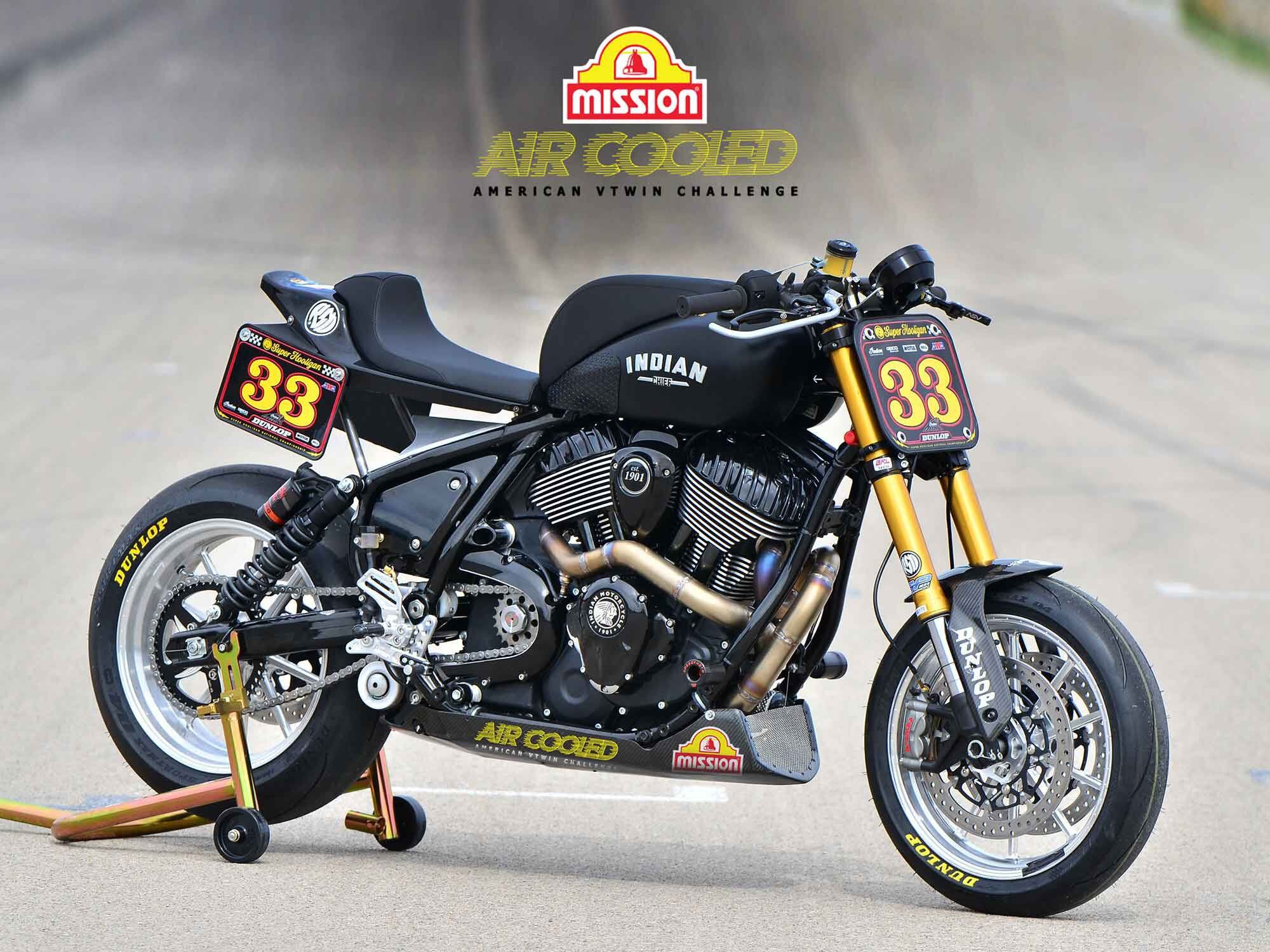 This Indian Chief was built by Roland Sands Design and raced by Rennie Scaysbrook in the Super Hooligan National Championship. (Roland Sands Design/)
In 2021, Roland Sands Design announced that the roadracing segment of the Super Hooligan National Championship (SHNC) would take place in conjunction with MotoAmerica's King of the Baggers in a four-race three-round series kicking off in Daytona in March 2022. The SHNC is open to 750cc and larger two-cylinder motorcycles that weigh more than 420 pounds and are not equipped with clip-on handlebars, so the roadracing segment is often dominated by liquid-cooled machines—but that hasn't killed the competitive spirit of racers on air-cooled V-twins.
In an effort to support racers on these more traditional machines, RSD has teamed up with Mission Foods to launch the Air-Cooled V-twin Challenge. The Challenge is essentially a race within a race that gives the air-cooled riders something to push for even if they're not at the front of the pack. So now in addition to the existing prizes, there are $2,500 in payouts per race for the three fastest air-cooled V-twin riders, as well as an additional $2,500 bonus prize for the rider with the most points at the end of the four rounds.
Related: The King of the Baggers Series Continues to Expand for 2022
Riders participating in the challenge must adhere to all Super Hooligan guidelines, while also wearing a Mission Foods logo on their race leathers and on their motorcycle.
"The Super Hooligan class with MotoAmerica features riders and bikes from many disciplines and has a broad set of rules meant to bring new riders and brands into roadracing," the team at RSD said. "With the addition of the Mission Air-Cooled American V-twin Challenge, we hope to inspire American V-twin riders who normally race at a local level to come out and race with the SHNC at a national level and elevate the visibility of air-cooled American V-twin roadracing."
Stay tuned for the first race in Daytona, and for more information on the SHNC, check superhooligan.com.